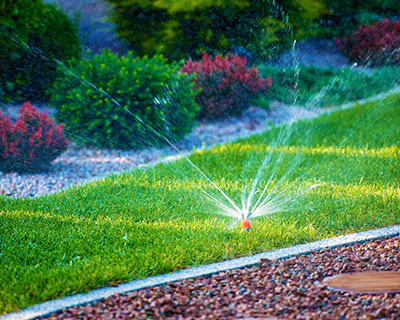 The beauty of a landscape largely depends on how healthy the turf and other plants are. And how can that be possible without a proper watering system in place? With perfectly functioning irrigation system, your plants will get all the nourishment they need at the right time and interval. You can even have an automated system that will do all the work for you. Just set the system based on the watering needs of your lawn and plantings.
But most homeowners are incapable of installing a complex watering system. It requires expertise and experienced people like us at Express Outdoor Services, LLC. With us, you can be sure of an efficient system, proper installation, top-quality materials, and sensible irrigation design. Our company is dedicated to creating and maintaining healthy and beautiful lawns across Minnesota. We've been serving Brainerd MN, Baxter MN, Crosby MN, Ironton MN, Deerwood MN, Fort Ripley MN, Pillager MN, Motley MN, Nisswa MN, and Lake Shore MN for at least 20 years, so we know the needs of our local clients. Call us at (218) 839-1940 today!
Drip Irrigation
As the name implies, this type of irrigation uses a system where water is slowly dripping to the roots and other parts of the plants. This form saves water and ensures better usage of fertilizers. It's not a simple system, though. It is composed of a network of emitters, tubing, pipes, and valves, so it must be handled by certified technicians. You will be assured of the irrigation's efficiency if it is designed and installed by professionals. Besides better usage of water and fertilizer, drip irrigation also keeps the soil moist. Soil erosion and weed growth are lessened, and water distribution is kept uniform.
Sprinkler System
The sprinkler system is one of the most commonly used types of irrigation for lawns and landscaping. Most of the sprinklers today are automated and have features that can detect rain and moisture. You can also set the system to work on any specified time or day. The system will do the job for you. Just make sure that you hire a competent installer to get these positive results.
Irrigation Systems
If you're among those who are busy with their work and do not enjoy the manual watering of the plants, then installing an irrigation system in your lawn or landscape is a must. We can install drip or sprinkler system for you. You can also choose an automated system if your budget permits. A perfectly designed system will work on any type of lawn or landscape.
Make sure to talk with your preferred contractor about all your options before the project starts. This will avoid miscommunication, expensive reinstallation, and project delays. With Express Outdoor Services, LLC, we'll be here with you from assessing the location to recommending the best irrigation system for your landscape. You can't go wrong with a company that has been in the business of maintaining landscapes for more than two decades.
Are you ready to ease up your weekend workload? Call us today and let's talk about the perfect irrigation system for your home.
"MORE ARTICLES"
Lawn Care
Pavers
Retaining Walls
Landscape Design
Outdoor Living