Landscape Design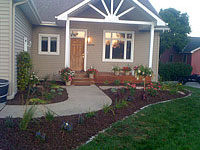 Do you wish to have an English-style garden or a landscape full of beautiful water features? These landscape designs can easily make your property a standout in your neighborhood. However, you can only enjoy your desired amenities if you hire an experienced landscape design firm. Most companies employ highly skilled designers who are capable of creating unique, functional, and beautiful landscape designs. Professionals also use modern design tools, so you can already have a clear visual of your landscape even before its installation.
If you're from Minnesota, you can hire Express Outdoor Services, LLC to work on the design phase of your landscaping project. Among the numerous landscaping firms in the state, we have the most impressive credential when it comes to designing landscapes. Our past clients commend us for our creativity and ability to realize their dream landscape setup. Our designs are based on sound landscape design principles and sustainable landscaping concepts. We've been doing this approach for more than 20 years now, so we are confident that you will be satisfied with our output. Call us today at (218) 839-1940 to talk with one of our landscape designers. We serve clients from Brainerd, Baxter, Crosby, Ironton, Deerwood, Fort Ripley, Pillager, Motley, Nisswa, and Lake Shore, MN.
Landscape
Your landscape is an investment, so it must be carefully designed. In fact, well-designed landscaping can add value to your property and make it more appealing to prospective buyers. Meanwhile, the important elements that must be included in the landscape design proposal include:
softscapes
hardscapes
water features
shade structures
wood elements
outdoor living features
fire amenities
irrigation and drainage systems
landscape lighting
Landscaping Ideas
Your landscaping ideas will be transformed into beautiful landscape features with the help of professional landscape designers. They can also improve your ideas to suit your needs, preferences, and available budget. There are cases that your ideas are not feasible due to limited outdoor space, budget constraints, and compatibility with other landscape amenities. But your designer should be able to come up with a landscape design plan that will address these issues.
Garden Design
There are a lot of garden designs that you can choose from. You can opt for a grand garden design or opt for a simple but easy-to-maintain garden setup. At Express Outdoor Services, LLC, we can design a Japanese- or English-style garden, rock garden, and water garden. If you want to have different types of gardens in your landscape, just tell us and we will incorporate them in our design plan.
Patio Design
The usual hardscape feature that most property owners request is a patio. This outdoor living feature is a popular inclusion in the landscape design plan because of its affordability, ease of installation, and aesthetic benefits. A patio design is commonly based on a certain theme such as Old World, Mediterranean, modern, and contemporary.
Landscape Designer
Choosing a landscape designer who is updated on the latest landscaping trends is always a best option. Another quality that you should look for in your designer is his creativity. He should be able to transform your outdoors into a nature-like environment. With his experience, he knows the perfect combination of plantings, hardscape elements, and other landscape features. This will result in a unique, functional, and beautiful landscape design.
"MORE ARTICLES"