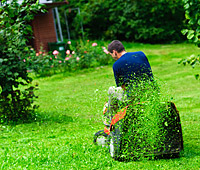 A neatly mown lawn will not only make your outdoors more attractive but also more favorable for outdoor activities. You will also enjoy other benefits if you have a well-maintained lawn. For one, your turf will be healthy and more resistant to weed and pest infestation and other types of diseases. A healthy lawn will also reduce your maintenance cost. You will also enjoy up to 20 percent increase in the market value of your property. However, it will be difficult to achieve a healthy and lush lawn if you don't have a sound lawn care plan. The plan should cover all your lawn's needs and must be executed by a professional lawn maintenance contractor.
You should also look for a contractor with decades of experience in the industry. This way, you will be assured of expert execution of all the maintenance tasks that you may require. And here at Express Outdoor Services, LLC, we have the capabilities to work on all kinds of lawn care tasks. From mowing to applying herbicides, we can assure all our residential and commercial clients that these tasks will be performed efficiently and accurately. Our proficiency in this field of landscaping is already proven by countless clients from Brainerd, Baxter, Crosby, Ironton, Deerwood, Fort Ripley, Pillager, Motley, Nisswa, and Lake Shore MN. Please contact us today at (218) 839-1940 to know more about our maintenance services.
Landscaping
It is still best to hire landscaping specialists with extensive experience in lawn care. They use the most appropriate methods and know the right tools to use when handling a maintenance job. Experienced landscapers like us can also perform other vital landscape maintenance tasks such as paver cleaning and sealing, irrigation and drainage maintenance, outdoor lighting replacement, and water feature maintenance.
Lawn Mower
All service providers in MN have lawn mowing tools and equipment. But before you hire one, make sure to check the number of available equipment and the number of its skilled people. A reliable contractor should have several mowers and other lawn care tools to complete the job fast and efficiently. A lawn mower may be enough for a small residential lawn, but expansive lawn areas require the use of heavy-duty riding mowers. They must be operated by properly trained and skilled crews to achieve a clean and neat-looking lawn.
Lawn Care Services
We always recommend to our clients to get a comprehensive lawn care package even if they have smaller lawn areas. A complete package will cover the needs and requirements of their lawn all year round. This will also help reduce the cost of lawn maintenance. The lawn care services that we offer are also customized to suit the needs of the lawn and the desired outcome of our clients.
The lawn care services that we offer usually include:
Mowing and edging
Aerating and de-thatching
Spring and fall cleanups
Seeding and sodding
Fertilizing
Herbicide and pesticide application
Lawn Maintenance
Lawn maintenance is not a simple DIY task. It is better done by professional people with in-depth knowledge of the characteristics of various grass varieties, topography of the area, and the distinct needs of the plantings. You are also assured that each lawn care task is performed according to industry standards. With professionals, you will have a lush, functional, and beautiful lawn all year round.
"MORE ARTICLES"
Pavers
Retaining Walls
Landscape Design
Outdoor Living
Irrigation