Outdoor Living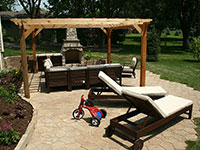 Did you know that adding outdoor living spaces has the same benefits as travelling? It's good for the mind and soul. Staying outdoors for a party eases the mind and is more enjoyable than spending time indoors. On top of that, it increases the value of your property. No wonder more and more people are adding features like outdoor kitchens, patios, and outdoor fireplaces to their homes.
Since this kind of project is a big investment, you have to think about the design, kind of amenity to build, and the people who will build your outdoor feature. You should choose a company that employs experienced people, certified masons, and creative designers. In addition, it must have successfully completed projects in the past. And here at Express Outdoor Services, LLC, we are the right company to hire. We have over 20 years of experience as an outdoor living specialist and are composed of highly qualified people. We have been serving Brainerd MN, Baxter MN, Crosby MN, Ironton MN, Deerwood MN, Fort Ripley MN, Pillager MN, Motley MN, Nisswa MN, and Lake Shore MN. Call us at (218) 839-1940 if you're from any of the areas we serve.
Outdoor Kitchens
Ever had a house party when you are too busy in the kitchen and wished you could make the cooking a lot more fun and enjoyable for everyone? Well, an outdoor kitchen is just perfect for you. Of course, the activities you can do will be dependent on the features that the outdoor kitchen will have. We highly recommend custom outdoor kitchens with grills, ovens, rotisseries, and other cooking appliances. You will also enjoy your new outdoor living space if you have a big space for dining.
Outdoor Fireplace
Summer is the perfect season to spend more time outdoors. Does that mean you cannot enjoy your new living spaces in colder months? Of course not! As long as you have a reliable outdoor fireplace, you can enjoy the outdoors any time of the year. If you need one, please call us at Express Outdoor Services, LLC. We can help you design and build fire features like pre-built and custom outdoor fireplaces. With a customized fireplace, you can have the design you want and use the materials of your choice. You can also install it in any spot that you prefer like the patio or deck.
Fire Pits
An alternative to an outdoor fireplace is a fire pit. Depending on the size and the design, this can easily be the focal point of your outdoor living space. You can have either the fixed or the portable fire pit. Fixed fire pits are perfect for large gardens since you can have additional features such as sitting areas. Meanwhile, the portable one is more practical and can be installed on any spot you like. You may also choose among wood burning, propane, gel fuel, and natural gas fire pits.
Patios
Patios are the perfect choices for outdoor improvement projects. They are practical and cost-effective options. Some clients prefer the attached patio design to serve as extension of their indoor living. Others prefer the standalone patio to create a new focal area in the outdoors. If you need one installed in your property, you have to make sure it is well-designed and built with materials that can withstand harsh weather conditions.
Outdoor living is one of our specializations. Call us today so we can start discussing your ideas and plans for your outdoor space.
"MORE ARTICLES"
Lawn Care
Pavers
Retaining Walls
Landscape Design
Irrigation