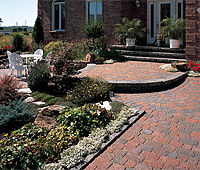 Pavers are the most popular masonry materials today. Property owners and contractors prefer this type of paving material for its durability, aesthetic appeal, and affordability. This is also a very versatile material, which can be used in various applications. A lot of outdoor amenities in residential, commercial, and public spaces are made from paver units. You can also have new paver amenities in your home or property by hiring professional builders like us.
Express Outdoor Services, LLC has more than 20 years of experience in paver design and installation. Our team is composed of seasoned masons and certified paver installers. We can handle all types of paving projects, whether in residential or commercial properties. Moreover, the pavers that we use are all sourced from reputable manufacturers in the country. We make sure that they are topnotch and proven durable to give our clients long-lasting paver amenities. If you would like to see some of our completed works, please call us at (218) 839-1940 or visit our office during your most convenient time. We serve various cities and towns in Minnesota, including Brainerd MN, Baxter MN, Crosby MN, Ironton MN, Deerwood MN, Fort Ripley MN, Pillager MN, Motley MN, Nisswa MN, and Lake Shore MN.
Paving Stones
The natural appeal of paving stones is one of the reasons why a lot of property owners choose this type of paving material. Stones can transform a dull and bland area into an inviting and more beautiful spot. They are perfect for patios, decks, driveways, and other outdoor living amenities. Natural stone pavers can last for generations and only require minimal maintenance effort.
Patio Pavers
If you want to maximize the use of your outdoor space, install a patio. This outdoor feature will not only create additional outdoor living space but also improve the aesthetics of your home. However, you can only achieve these benefits if the patio is designed and installed by professionals. Experienced builders will use only premium materials to ensure the durability and longevity of your new outdoor living space. Most of them use patio pavers because of the pavers' toughness and unique appeal. They are also available in great design options.
Concrete Pavers
There are a lot of paving materials that can be used for your outdoor paving project. You can choose bricks, natural stones, or concrete pavers. At Express Outdoor Services, LLC, we highly recommend the use of concrete paving products because of their wide range of available designs. It will not be difficult to achieve your desired style or theme since these pavers come in different colors, sizes, patterns, and textures. You can easily find the design that will suit the theme of your patio, driveway, or other outdoor feature.
Brick Pavers
Brick pavers are also great paving materials. Their earthy colors create a natural and relaxing ambiance in the outdoors. These pavers are mostly used for patios, driveways, outdoor kitchens, courtyards, and other outdoor living amenities. Bricks are long-lasting materials, so your outdoor amenities will last a lifetime.
Driveway Pavers
Your driveway must be built from tough driveway pavers. Always ask your contractor about the kind of pavers that they will use for your driveway. Make sure that they are durable and specifically made for driveways. With proper installation, your driveway can endure freeze-thaw cycles, harsh outdoor elements, heavy vehicle traffic, and constant use.
"MORE ARTICLES"
Lawn Care
Retaining Walls
Landscape Design
Outdoor Living
Irrigation